We have developed a technology for the accurate and automated creation of avatars (closed homologous surfaces representing the human body shape equipped with a skeleton) from 3D raw scans.
Since it is a fully automated process it can be applied massively to large 3D scan databases.
Our technology includes the following processes:
---
Single surface creation
Hole filling
Natural slit modelling
Homologous topology
---
*Our technology is based on template_fitting methods and was developed by the IBV team within the EuroFit project.
3D scan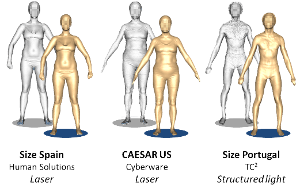 At present the technology is optimised for 3D scans in standing posture.
We are working on the shape registry of the sitting posture. It has been tested for different 3D-scanning technologies.